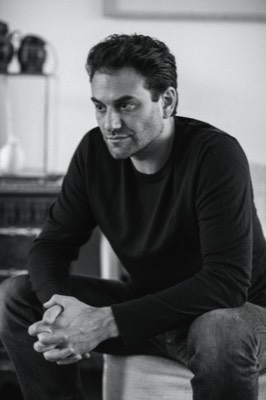 Founder of his eponymous London, Los Angeles and New York City based global architectural interiors practice, Alexander Purcell was first driven to launch the Atelier Purcell furniture and lighting collection to grant new life to the bespoke designs he had created for his projects. "
The ability to refine and iterate design ideas more rapidly brings a playfulness to creating furniture - the constraints of architectural construction don't apply,
" he says.

The monolithic Seismic cocktail table, for example, is the love child of antique granite and cutting-edge CNC marble fabrication. The Horta console's sinuous legs marry bronze investment casting with generative design and 3-D printing. "
We pair cutting-edge technology with ancient handcraft techniques to define a new language of form
" says Alexander Purcell.

The son of a graphic designer and a businessman, he was predisposed to creative entrepreneurial pursuits. He remembers disassembling his toys as a child to "
get to the bottom of how things were made, what was inside them, and how they worked.
" From the start, he says, "
It was about the process of creation, the making.
" Purcell went on to study architecture at Cambridge and worked for the iconic Richard Rogers Partnership. He founded his own firm in 2009, becoming known for stylish residences and hotels, and expanded into furniture design, collaborating on products with Holly Hunt, Promemoria, Link Outdoor, De Castelli, and other luxury brands.

He launched Atelier Purcell in 2019 to give form to his personal vision and to experiment with innovative technologies with the aspiration to create heirlooms of the future. The collection features beautiful material pairings—solid brass and eucalyptus, stainless steel and oak, bronze and marble—and processes both digital and analog. To create the Khepera Bench leg, for example, an initial computer model evolves into a physical sample through additive or subtractive manufacturing technology. This article is then diligently finessed and from it a pattern is taken to the create the wax parts for casting. "
Then, from the rough ceramic mold,
" he notes, "
an exquisite object materializes ready for hand finishing and patina.
"

Purcell says of his dual career, "
A furniture concept can come from an architectural project—which is a more extended dialogue, trying to navigate a narrative as you move through a space—or can be sparked by the negative shapes in a shadow cast across the floor. Inspiration comes from many sources but what I really enjoy is the reciprocity that can be achieved between the spaces we create and the objects we craft.
"